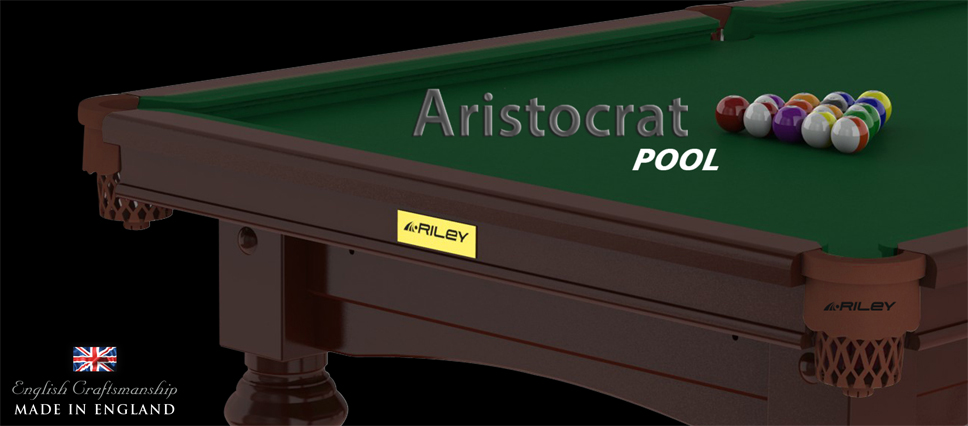 Introducing V1 Steel by Riley

The most innovative development seen in the world of pool, probably ever. What is V1 Steel technology? V1 Steel technology is simple.
Products Description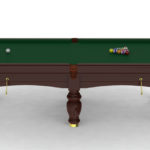 Riley has finally launched an American pool table with a very exclusive difference.
Did you know Riley have been making snooker tables to the highest standard for more than 117 years?
Did you know Riley manufactured and supplied all snooker tables used by the professional game for all world ranking televised events from 1993 – 2009?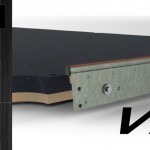 Did you know Riley have introduced the same steel block cushion technology used in our snooker tables into our new Aristocrat V1 Steel American Pool Table? Well we have.
Snooker is perceived by many to be the most demanding cue sport in terms of positioning the cue ball, both for safety and break building. Is it any surprise snooker, the professional game, has used steel cushion technology for the past 30 years. Well it has. Riley were one of the pioneers with steel cushion technology and we are at the forefront again by bringing steel cushion technology to American pool. Why not? Cue ball positioning is equally demanding in American Pool, and players also rely on bank shots and kick shots to a much greater extent – consistent and reliable cushion response is key.
Why should American pool players not enjoy the benefit of steel cushion technology in the same way snooker players do and have for 30 years. Well they can now!!
Introducing V1 Steel by Riley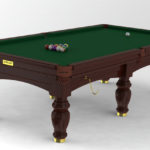 The most innovative development seen in the world of pool, probably ever. What is V1 Steel technology? V1 Steel technology is simple. All players regardless of the cue sport want the most consistent, precise bounce that money can buy, at least the professionals do. A poor bounce can cost a player dearly in tournament play. 2cm or 5cm in terms of run on can cost a player a game, let alone the match. V1 Steel technology gives a consistent bounce from any cushion simply because steel plates sit between the wood cushion and the rubber. Normally it attaches to the wood cushion and guess what happens when wood contracts and expands? Uneven ball response. So by using V1 –Steel technology you not only get a consistent bounce it is precise every time regardless of the atmospherics and temperature in the room your ball bounce will be consistent and precise.
V1 Steel technology for the professionals and those who want to be the best they can be.
Slate

Riley use the finest Italian laser cut, precision engineered, 2.5 cm thick slate. We are one of only a few, if not the only manufacturer, to use this prestigious quality slate. No other slate meets these exacting standards.
Five pieces of slate cut from one slab to ensure consistency when the slates are laid down. No filler, no joints, no lips. Just one seamless slate playfield.
Our table frames are designed with the unique Riley adjustable slate support system. These ensure that the slate is properly balanced to the frame and that the weight of the table is evenly distributed – this is key to keeping the table level over time.
Cushion Rubber
Riley K series rubber.

The rubbers used on the cushion and friezes (steels) are fused together to get the full benefit and enhancement to the playing experience. The Aristocrat V1 Steel is fitted with American profile cushion rubber to match exactly with the full size American pool balls supplied with the table.
Pocket Construction

The 9Aristocrat V1 Steel has American style leather drop pockets, made using finest leather to ensure maximum durability. They also bring the table that classic American Pool appearance that will grace any home.
The cloth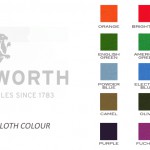 Especially for American Pool players, we have sourced a range of the finest worsted cloths. A wide range of colours are available – personalise your table for a unique look.
– Full size 9′ American Pool Table
– Manufactured from only the finest mahogany and selected hard woods throughout the table (optional – mahogany construction throughout)
– Wide range of carefully selected worsted American Pool Cloth in various colours
– American Pool cut slate as used throughout the world
– Highest quality Italian slate – laser cut, five piece and 2.5cm thick.
– Riley galvanised V1 Steels for optimum response along the whole length of the cushion
– High quality leather American pool drop pockets
– Premium Riley K Series cushion rubber for consistent bounce and maximum lifespan.
CONTACT US FOR A SPECIAL OFFER
(263) views
Product Features:
Time to Complete

20-30

Days