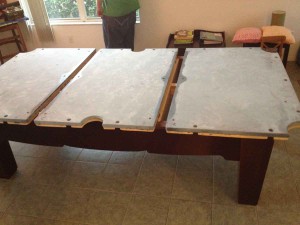 All Billiard tables are delivered in component parts and assembled in the room in which it is to be used. It is usual to first bolt together the legs and table frame before positioning the completed assembly within the room. The slate bed is sectional and installing and leveling is a skilled job- hence we insist on the use of Century craftsmen.
Century provides a full concierge service where we deliver and install each table to each customer's door. Because each table is built in your home or location our fitters are there to build your table literally from the frame being assembled to the cloth being fitted ready for you to enjoy your table and playing experience.
Once the slate is in place, the cloth is applied to the playing surface. Finally, the cushion rails and cloth are installed with the pockets. It will take at least 2-5 hours to install a billiard table, subject to free and clear access and ground floor installation.
It takes at least two men to install a sectional slate bed table and at least one of these must be a Century craftsman. If you prefer, you can mitigate installation costs by providing your own local labour for the manual handling elements of the job – call us and we can discuss the most cost effective solution for you.
(82) views